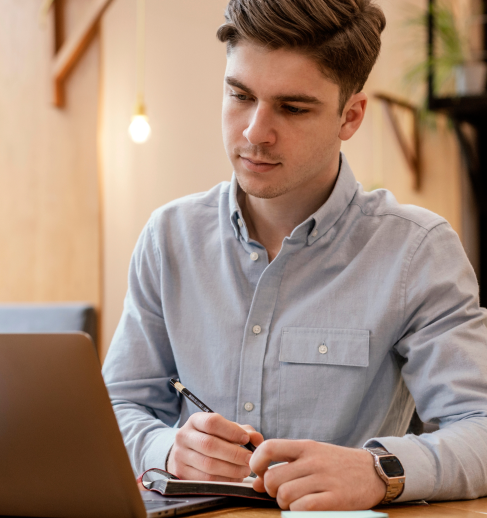 Mena Global has a very friendly culture and you feel like going to work each day. The positivity in Mena Global office can be felt, the moment you step in the office premises.
Fun to be surrounded by so many intelligent people. When I have a problem, they actually listen to me. Good communication skill and truth.
Overall it's a great work environment, where people are productive and genuinely enjoy being there.
All of my team member and elder person are supportive and talented. They provide me everything which i looking for.
Excellent, I am so happy to be an employee of this company.
I am blessed to be an employee. It's such an amazing experience working in this company. I'm gaining better expertise in my skill.
I'm very happy to working with this company. Mentors are very supportive and talented. along with the work the extra ordinary things are also very nice which is organised by company.
Friendly work Environment, great work culture, whole team Celebrate every festival together.
Mena Global is a great place to work with a wonderful Management and friendly staff. Totally an Australian working atmosphere.
The management is highly supportive and open for ideas from every employee, irrespective of his/her designation.
A good and heathy working culture. There is a healthy work culture with tremendouus scope of growth opportunities for everyone.
Nice place to work. Would recommend to others.
It's amazing to work at Mena Global, where as an employee one feels very secure, with all the needs of an employee are taken care of.
A very good place to work. So glad and grateful to be part of the Mena Global Family!
Friendly people and good working culture!
Mena Global not only helped me to learn a lot of things but have also provided me the freedom and comfort to explore and perform to the best of my abilities
This company is methodical and well-mannered. The company's work environment excels since there is no discrimination based on the hierarchy of roles.
Workplace is superb with supportive staff. Positive work environment.
Company polices are very good. They also provide mediclaim for employees and there family as well. Management and teammates behaviour is so polite.
In this company, everyday I'm learning something new and counting. my destiny that I am a part of such a benevolent team.
The atmosphere is really very good and the people of each department are always ready to help when needed and share there knowledge.
Good & Caring Management, Respect for all Employees, Perfect place to work
Good workplace culture with helping team members. Exposure to challenging industrial and commercial-level solar PV projects gives the opportunity to improvise technically.
It has been a nice experience with employee friendly environment. As a team we have overcome initial challenges and working on the plans to grow and succeed.
Overall it's a great work environment, where people are productive and genuinely enjoy being there.
My experience at the company is fantastic. All coworkers are cooperative. I never feel like an employee of this company.
Overall a very good company. Great culture and much opportunity to work. Best benefits.
Mena Global is By far the best place that I have worked so far. I have grown so much since I started working with this company. Teams are ready to collaborate to achieve one common goal.